Trailer tents are basically a home on the go, so you'll want to know as much about them as possible before you make your pick—or you'll regret it! In this guide, we'll be telling you all you need to know about picking out the perfect trailer tent. We'll focus on the features and the details that matter. Let's get right on to it!
While some people invest in a motor home, caravan, or travel trailer, there are those that prefer to own a trailer tent.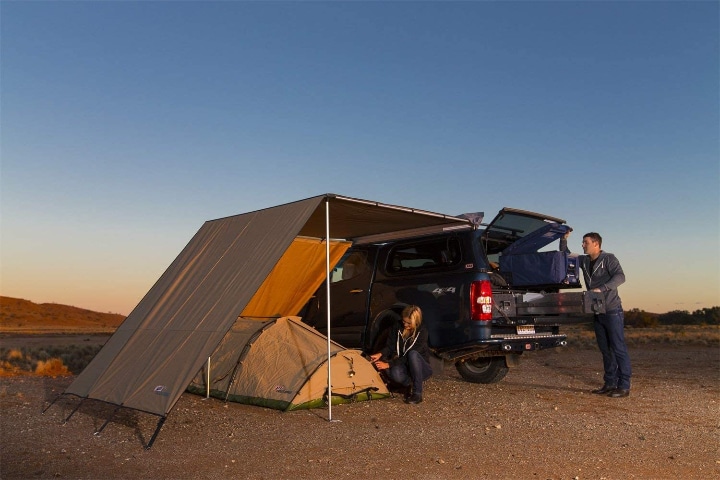 Trailer tents are far more affordable and cost-effective. They are also easier to handle and maintain. Plus, you can take them with you anywhere you go without worrying about local restrictions.
That makes them worth your attention even if you're not all that crazy about tents to begin with.
What Is a Trailer Tent?
Often called a "pop-up tent", a tent trailer is a detached compartment tent that you can often tow at the rear of your vehicle.
Generally, the term describes pretty much any tent whose walls are made of canvas. A trailer tent can be towed behind your motorbike or trailer (hence the name) and will provide decent accommodation when you're on the road.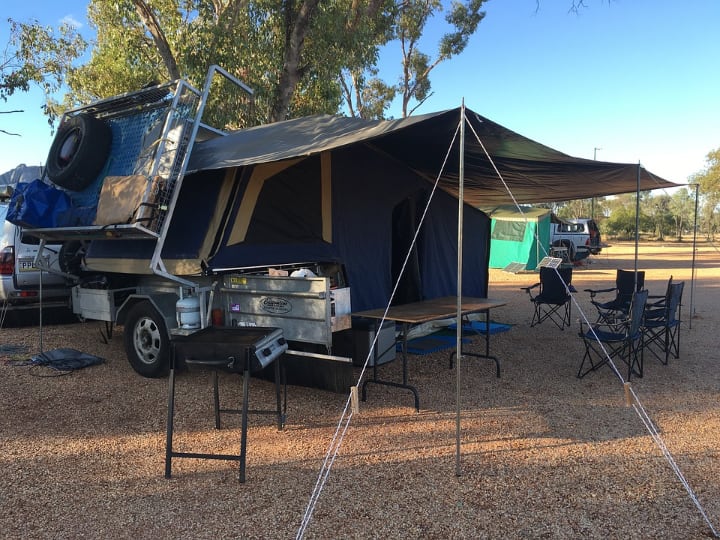 Some of these units provide standard comforts to help you have a more pleasurable trip. Once you unfold your unit, it turns into a resilient and roomy tent which is ordinarily weatherproof.
Benefits of a Trailer Tent
In the long run, choosing a trailer tent is an affordable way to enjoy the outdoors.
For one thing, if this is your first time with towing, the smaller unit will make it easier to reach your destination. Besides this, not all locations are accessible to caravans and motorhomes.
In many cases, a trailer tent is also easier to set up than a conventional tent, especially if you're not an expert. The last thing you want is for darkness to creep up on your before your tent is ready.
This type of tent also allows you to use a small tow vehicle. If you have a caravan, you will need a vehicle with a huge engine, and that's not always practical.
But with trailer tents, you can use small cars or even a motorbike for towing. That explains in part their popularity.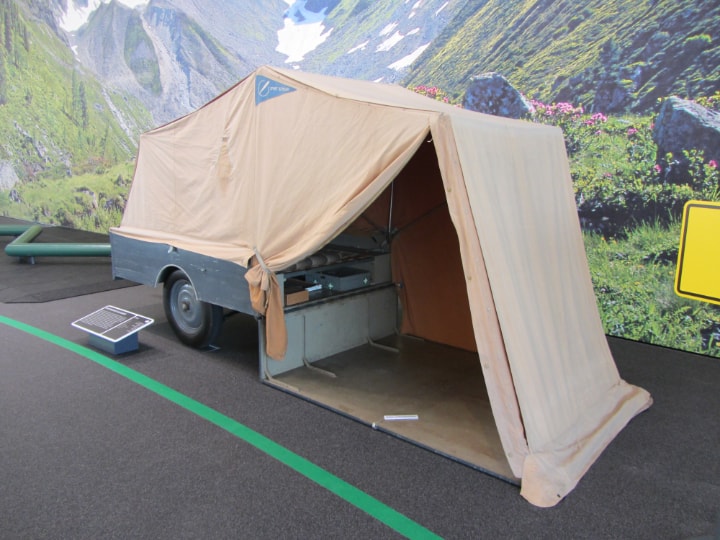 Important: These tents are convenient by design. They provide shelter from the elements without testing your patience in any way.
If you want to focus on exploring the outdoors rather than wasting time with the practicalities of setting up a tent, they're a great choice.
And finally, in case you do not have a huge property, owning a large camper could turn into a problem.
However, with tent trailers, this is not a dilemma at all since you can store it in a regular-sized garage or even in your garden.
Best Trailer Tent Types
These tents come in a variety of shapes and sizes, so don't approach them with any preconceived notions. They do look like tents, but they're designed with space efficiency in mind.
Let's look at some of the different types of trailer tents. Knowing them all can help you find the right design for you.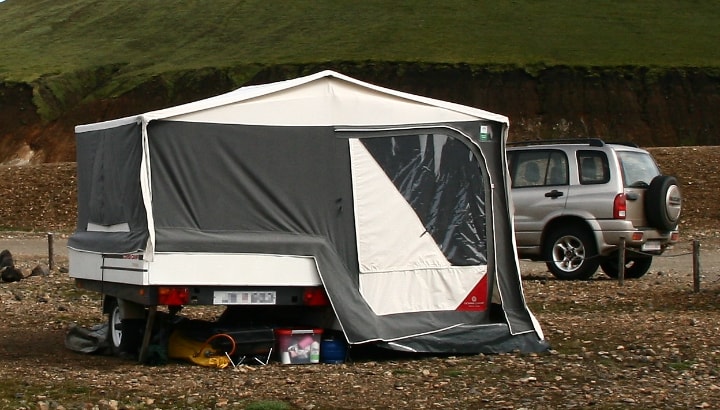 It will also give you more options to choose from if you don't have a big budget. Remember that none of these types of tents is perfect. Each is adapted for a specific use.
Tip: Keep in mind that the type of car you drive matters. Some of the following tents are adapted for use with specific cars. Make sure to check whether your car is adapted to them!
Pop Up Trailer Tents
Also referred to as pop-up campers, these foldable tents can be expanded to quite a roomy housing. But you can also collapse them so that they become a much smaller package that is easy to transport.
Good to know: A pop up trailer tent will give you all the benefits of a regular trailer but will be much easier to tow and carry around with you.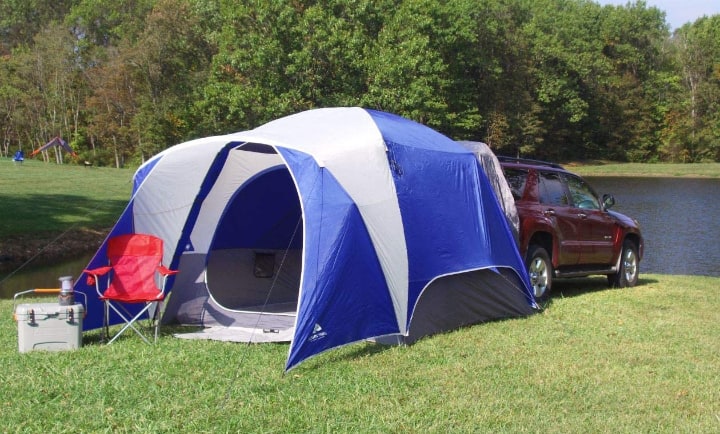 The pop-up trailer tent is like a foldable house you carry with you. When you finally arrive at your destination for the night, simply unfold the pop-up trailer tent, usually above or around your actual trailer, put out your sleeping bag, and prepare yourself for a good night's sleep. Guaranteed, that both outdoors and with a set-up like above, that that's how you sleep like a baby!
No products found.
Family Trailer Tents
A family trailer tent is similar to a pop-up, only a lot bigger. Whereas a pop-up tent only fits one, perhaps two people at best, the family tent is designed for you and the little ones.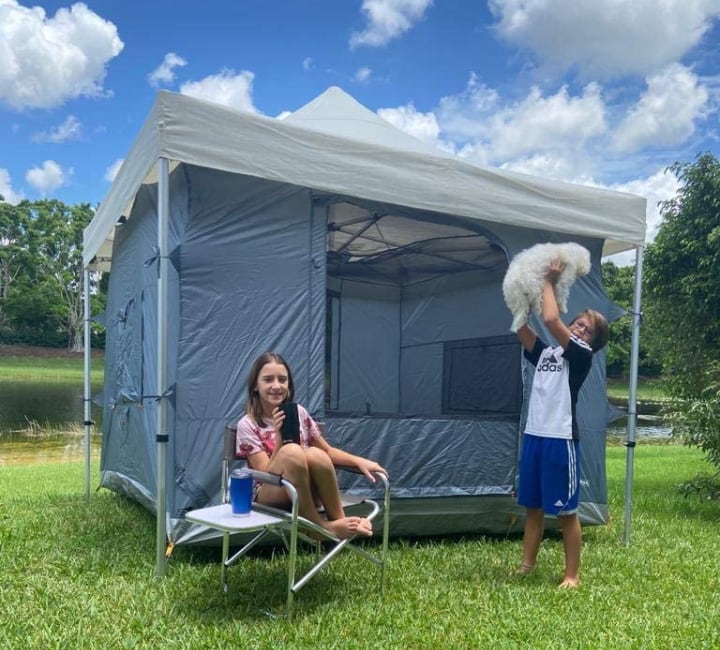 Good to know: Many family trailer tents come with enough room for a family of 4 or 6. But check the specifications to be sure.
A family trailer tent is ideal when camping with children as the little ones need space—as any parent knows. It's easier to care for them in a spacious tent rather than in a basic tent.
No products found.
Camping Trailer Tents
A camping trailer tent is great to have if you plan on spending a lot of time outdoors. It's studied by design than your average tent and it may also be more convenient to set up since it's designed for repeated use.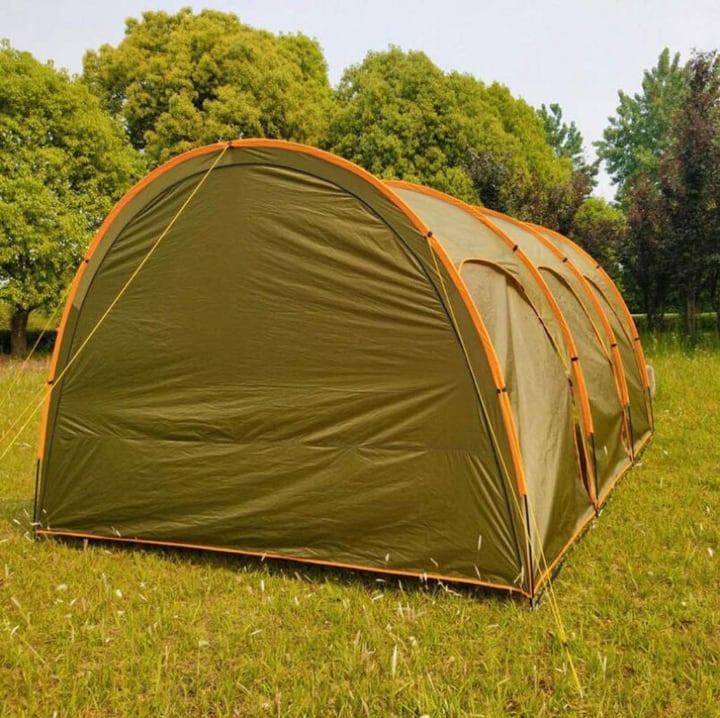 But when you're staying for a full week, you'll probably need the "luxury" of a working toilet, some cooking appliances, and a decent sleeping area. Simple camping tents don't provide this.
Think of them as a temporary shelter that is just big enough to afford you some basic comfort, and just small enough so that you have to go outside and don't miss out on the beautiful camping experience.
No products found.
Off Road Trailer Tents
Usually, the off road trailer camper is smaller than, say, the family tent. Underneath the canvas, you'll probably only get a sleeping area with some room for cooking appliances and a bunch of other things.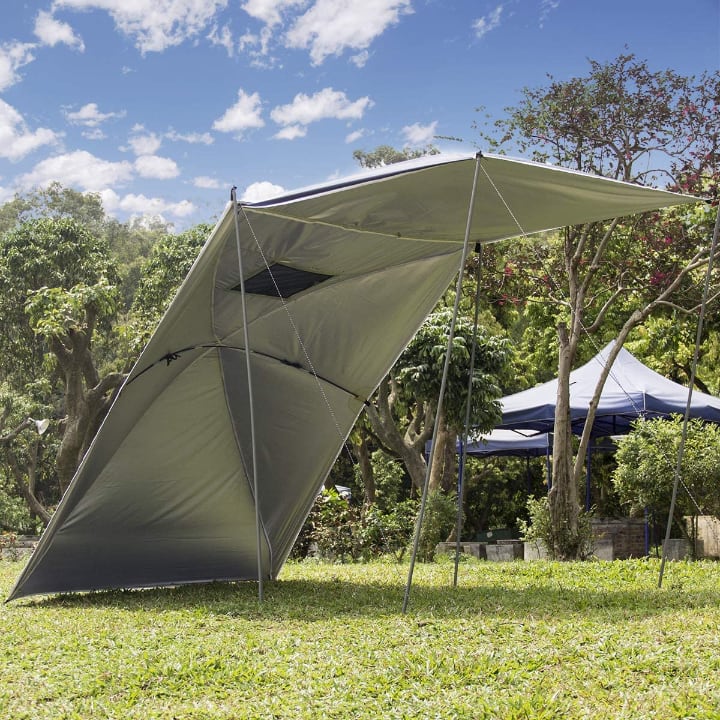 It looks less like a house than the other models, but most off road campers do have the advantage of a strong, resistant design that can withstand bad weather smells, dust, and intense sunlight.
Tip: The quality of the build materials can vary a lot, so make sure to read carefully the specification and choose a material that meets your expectations.
No products found.
High Wall Trailer Tent
High wall campers are basically your average pop-up tent, but with taller walls.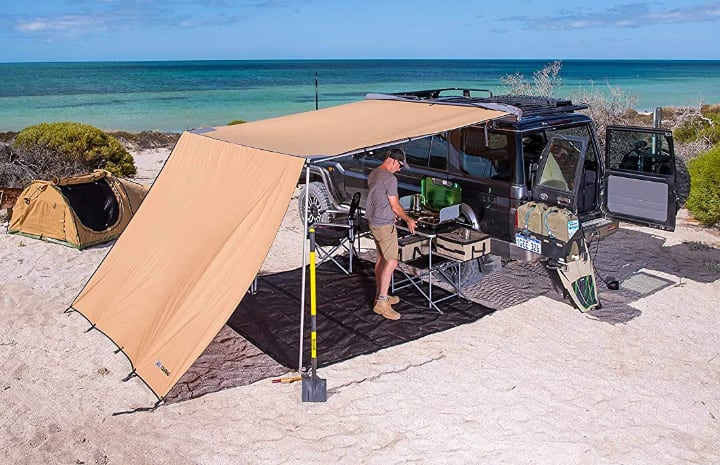 This may provide better protection from rain, but it really depends on the model you choose and where you place it.
Not all high wall tents provide complete protection from the elements despite their name.
No products found.
How to Pick a Tent Trailer
A good trailer tent needs to give you enough security and privacy (in case you're taking it to populated camping areas). It also needs to be spacious enough to house you and your friends, partner, or family.
Regardless if you are planning to buy a brand new or second-hand tent trailer, here are a few things you must consider before spending your hard-earned cash.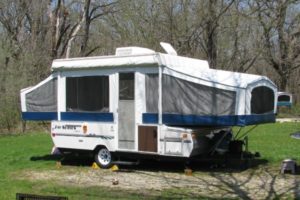 See if there are frays in the seam and watch out for water stains.
Check if there's damage, rust, or water leaks in the bodywork.
In case you do plan to purchase a second-hand unit, make sure the canvas doesn't have any mildew or mold.
Test if the zippers are functioning properly.
Try attaching the tent trailer to your vehicle and see if everything fully works.
How Long Does a Tent Trailer Last?
With proper care, it can last for years. Though it's best to fold your unit dry, there may be instances you need to take it down during heavy rain.
When that happens, see to it that you remove the water as much as possible then wipe down with a clean cloth.
Tip: Avoid cleaning with a general detergent as that can harm the waterproof coating.
Do Caravan Clubs Accept Tent Trailers?
The majority of caravan clubs accept trailer tents owners as members. Once you have membership in the club, you will gain access to locations such as parks and camping sites.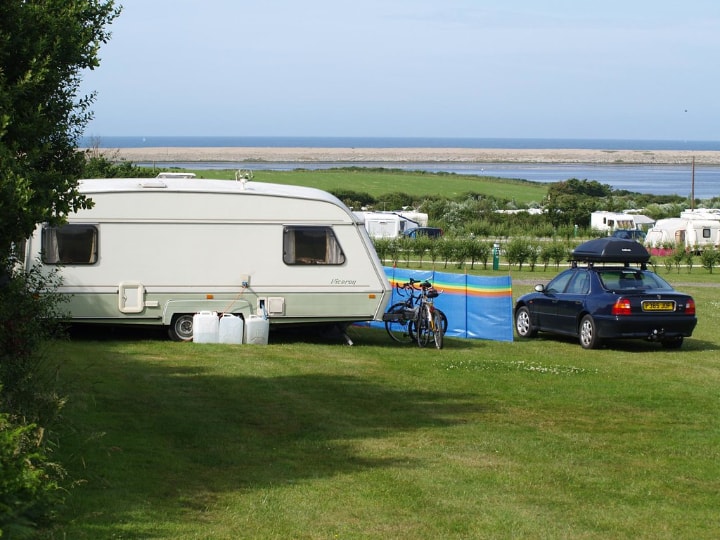 Since you own a smaller vehicle this means you pay lower fees for camping compared to caravan owners.
How to Set Up a Trailer Tent
The set-up of your trailer will vary, depending on the type of trailer tent you've opted for. For detailed instructions, we urge you to consult the handbook of your tent.
Here's a general guide to assembling your trailer tent.
Step 1 – Prepare the Ground
First, you want to make sure the ground you're on is level, otherwise, you risk falling. You should also take time to clear the area of rocks and other jagged, unstable materials.
Step 2 – Get the Tent Ready
Next, you will want to unfold any extendable parts of the trailer that will serve as your camper's "floor".
Step 3 – Set Up the Canvas
Once that's done, proceed to set up the canvas walls of the trailer tent. You will need to install some bars that will ensure the tent doesn't collapse over you. Usually, these go inside the canvas walls.
Step 4 – Secure the Windows and Doors
Proceed to pull up the tent and secure the doors and windows (with adjustable bars).
Step 5 – Protect the Tent
You will also probably need to cover up the tent with an extra layer of protection (to keep from overheating) and have to secure that in place by nailing it to the earth, as you would a normal tent.
Again, refer to your instruction manual for a more thorough guide. To give you a good general idea of the set-up you may expect, check out the following video.
Trailer Tent Care Tips
Whatever type of trailer tent you choose, make sure you follow a few essential care tips.
Keep it tight — You want a trailer tent with a canvas exterior that is tight so that rainwater and other possible hazards will roll right off.
Keep it clean — Try to avoid getting it dirty while cooking, and try to set up camp in an area free of trees, so that there's less chance of bird droppings, sap, etc.
Keep it dry — In case of rain, wait as long as possible, so that the tent has time to dry before you fold it back. Folding it while it's still wet is practically inviting mildew and mold to take up residence in your camper.
Wash it down — When you get back from your trip, make sure you wash your camper (again, letting it dry before folding), without using harsh cleaning materials.
Trailer Tents Questions and Answers
Still got questions about buying or setting up a trailer tent? Not to worry, because we've got the answers!
Phew, That Was In-tents!
We hope this guide has helped you figure out if a trailer tent is the right choice for you. A trailer tent can really make your camping experience more pleasurable, as well as dispel some of the tent-sion that arises from a lack of toilet or cooking space.
You got plenty of options to choose from, but in the end, you get the essential functionality that you need to feel sheltered and at ease.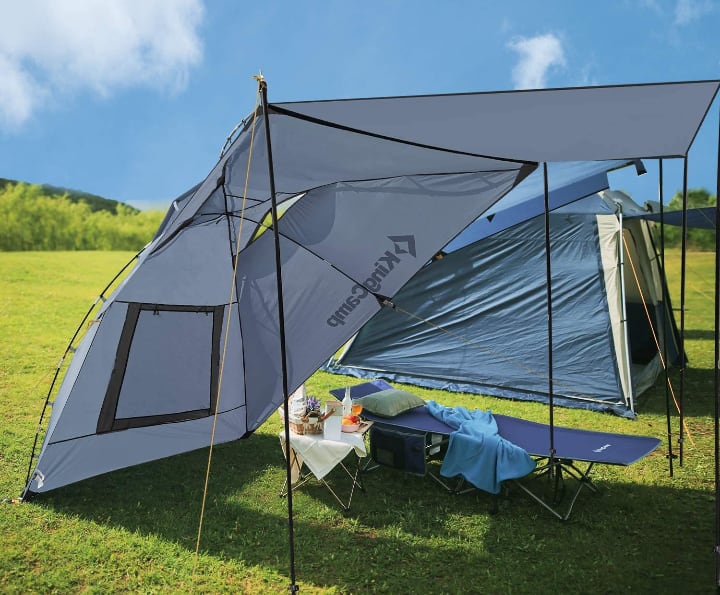 Keep in mind the tips we shared with you and you'll make the right choice!
Happy adventures! And do get back to us and tells us what kind of campaign tent you've settled for. We're curious!
PS: Before you set off, you may also want to figure out what teas and what essential oils to take with you. These can prove really useful when you go camping!
Welcome to the Active Thrills community! We, Nash and I, are the owners and authors of this special platform. We are so thrilled to say that this is definitely running actively to continue sharing all information and knowledge that we have about skateboarding, extreme sports, and gadgets in order to reach more and more people all over the world.