For most campers and hikers, ending a long trek with a fulfilling and satisfying warm meal courtesy of a camping stove is pretty tough to beat. And a quiet morning with a steamy cup of coffee is just about a picture-perfect start to any day in the wilderness. All of this is not possible without a trusty and dependable backpacking stoves that enhance your wilderness escapades in a way that not many other tools can.
Backpacking stoves come in so many different types and have increasingly gotten light and convenient over the past couple of years. In every camping and hiking activities, there is a corresponding backpacking stove that goes with it. That means backpackers will use up a lot less time cooking and your pack will stay as nice and as light too.
Best Compact Camping Stove Reviews
Choosing the right backpacking stoves is a lot harder than ever before and often the source of confusion with so many options on the market. Therefore, we've created a list to help you in cutting through the confusion and share the very best backpacking and camping stove available in the market today.
1. Meanhoo Alcohol Stove Burner Camping Set Carry Bag Included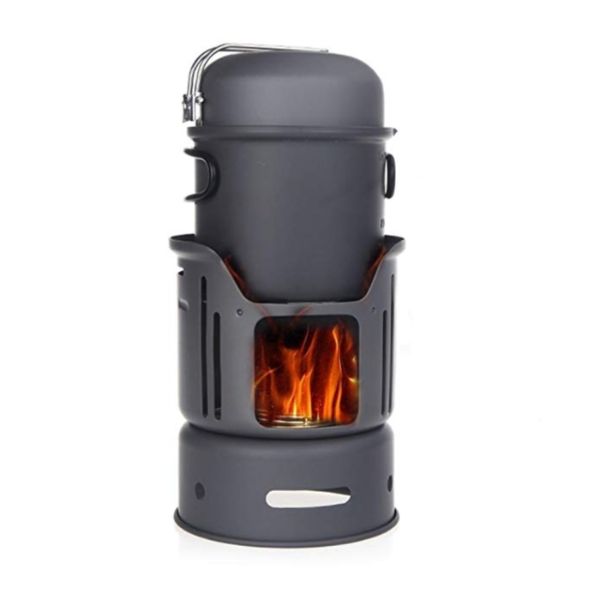 The Meanhoo Alcohol Stove set is a 5 pcs lightweight backpacking/camping cookware set with a mesh carry bag. It uses all kinds of a liquid burning source (not included) to power up your burner for hours. It is very portable and lightweight perfect for 1-2 campers or hikers. The set includes a pot, bowl and a burner that can be filled with fuel that lasts for hours.
It uses tough coated anodized aluminum pots with a copper and stainless steel burner. And since the pots are anodized, it is non-stick, scratch-resistant and easy to clean perfect for backpacking/camping cooking. This unique Meanhoo camping stove cook set folds up and can be stored together into the mesh bag saving space in your backpack. It is the best camping cookware set you will have ever owned.
2. MSR PocketRocket 2 Stove Camping & Hiking with Pot Supports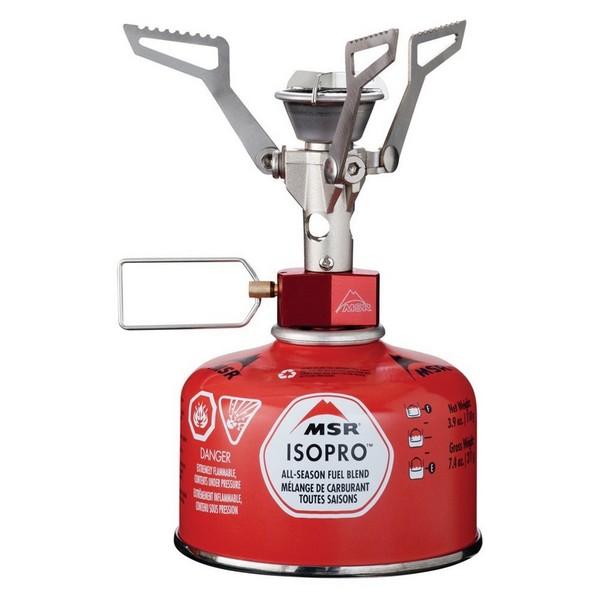 MSR PocketRocket 2 Stove set is a popular upgrade of the MSR's well-liked PocketRocket stove which has been a favorite with the backpacking community for so many years. It is portable, lightweight, and exceptionally small camping stove with a case that can fit inside the MSR Titan Mug. It also has a robust folding pot supports that can accommodate a wider range of pot sizes. The ultra-light hard-shell carrying case protects the cookware and contents from various elements in the wilds.
3. Coleman PerfectFlow 1-Burner Bottle Top Propane Camping Stove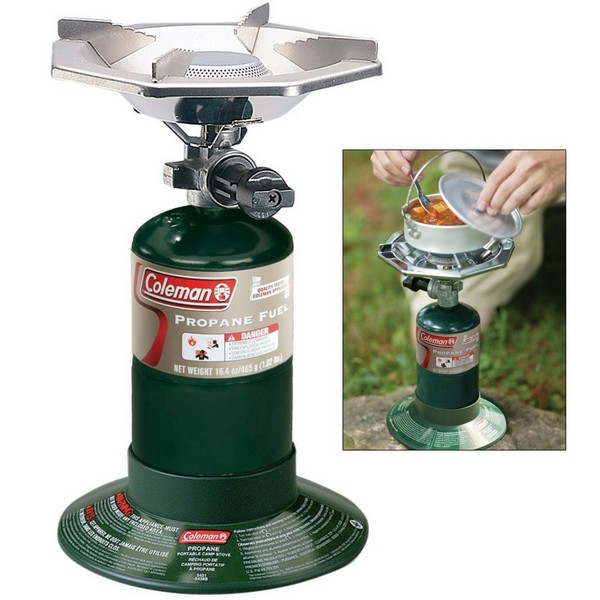 The Coleman PerfectFlow 1-Burner is easy to carry and pack camping stove. It is lightweight and packs a powerful 10,000BTU for a fast meal preparation. The 1-Burner stove cooking surface fits an 8 inches pan, very ideal for camping, backpacking, hunting, and much more. This 1-Burner stove features an adjustable burner providing precise temperature control and wind baffles protect the burner from the wind for maximum heat. It uses 16.4 Oz. propane cylinder (sold separately).
4. Jetboil Flash Personal Cooking System with Efficient Igniter Design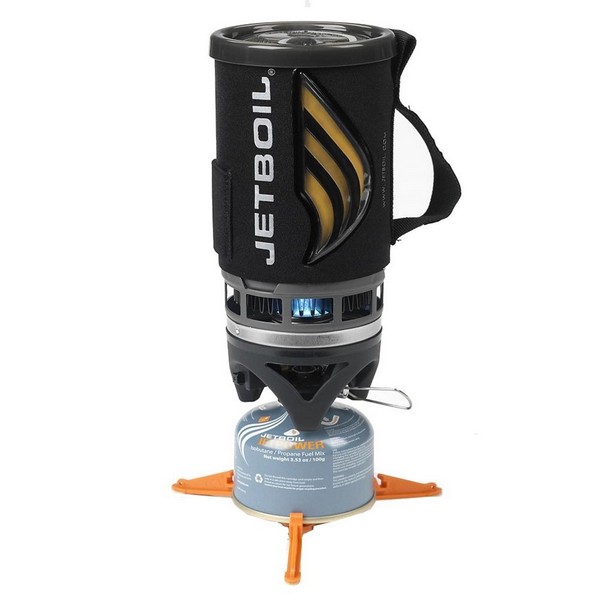 The all-in-one Jetboil Flash is a cooking system designed to capture and focus the heat more efficiently than any traditional cooking systems. It is a designed that utilizes the same efficiency as the classic Personal Cooking System (PCS) but adds an external temperature indicator for added convenience. This all-in-one Flash Personal Cooking System combines an adaptable stainless-steel burner and a 1-liter FluxRing cooking utensil in a single compact unit.
This Jetboil Flash camping stove brings into a boil two cups of water in just two minutes. The Flash is also loaded with features such as an easy-to-use electric igniter, a 1-liter perfectly insulated and hand-anodized aluminum cooking cup, a built-in windscreen, and a neoprene liner encasing the FluxRing cooking cup, keeping food and drinks warm long after heating. Compact and lightweight, the Flash cooking system uses a Jetpower Fuel canister for cooking (sold separately).
The entire Flash cooking system can be stowed inside the FluxRing cooking cup, reducing the entire 15 oz Flash to only 4.1 inches x 7.1 inches of packed size. The Flash can also be customized and the functionality expanded by adding additional any other Jetboil accessories, sold separately. Add a little extra fun to your outdoor cooking adventures with this Jetboil Flash personal cooking system.
5. Bisgear Ultralight Portable Outdoor Backpacking Camping Stove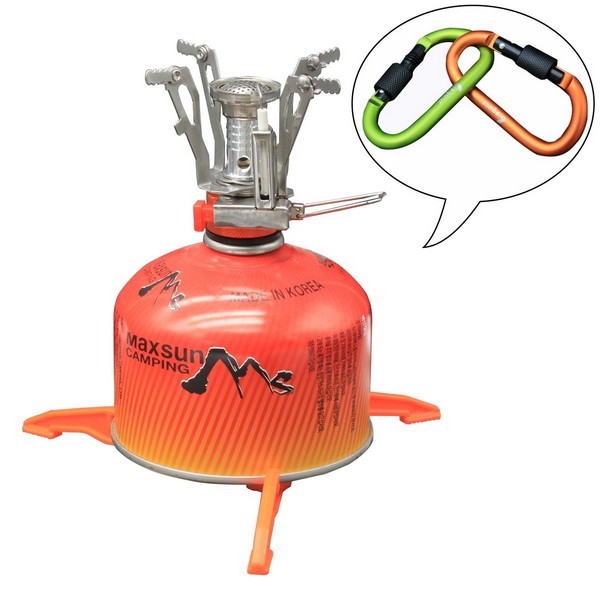 The Bisgear Ultralight is built in high-quality aluminum alloy and stainless steel that can stand high temperature and weight. This camping stove includes the Mini Stove with Piezo Igniter, a canister stands tripod that can be folded to approximately 4.25 inches x 0.8 inches and can be expanded to 8.46 inches x 0.8 inches, and 2 carabiners. The Bisgear Ultralight camping stove is well-suited with any 7/16 inch thread single butane/butane-propane mixed fuel, except Coleman 230 Gram tanks. The canister stand tripod can be fitted to most tanks (tanks sold separately) sold in the market. This Bisgear Ultralight is best suited for backpacking, camping, hiking, and other outdoor activities.
6. Hisea Portable 8-in-1 Outdoor Camping Stove Kit with Carrying Bag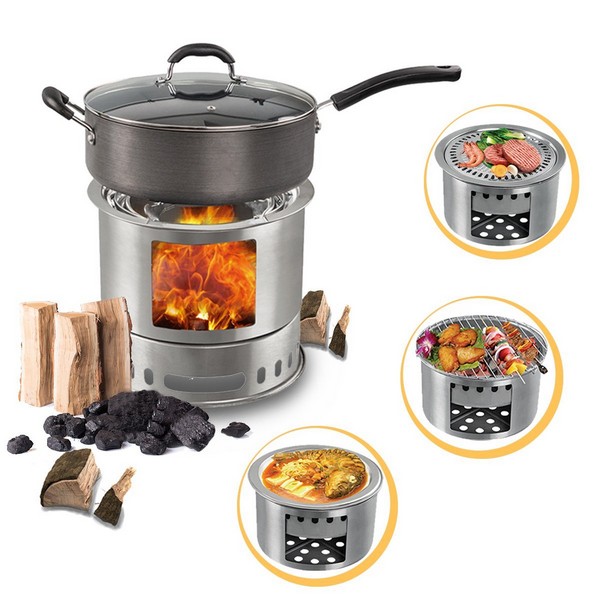 Built with supreme quality, buying a Hisea Portable 8-in-1 outdoor stove is buying with confidence. Built-in Carbon Stainless Steel to stands against high temperature and weight, this camping stove kit is the perfect companion for the modern explorer for backpacking, camping, hiking, fishing, and other thrill-seeking outdoor activities.
With fine surface polishing coupled with anti-corrosion ability, this camping stove is best suited for tough conditions. This versatile and portable features a double wall and air flow holes designs making burning efficiently with less smoke.
This 8-in-1 outdoor stove kit provides an unbeatable, unrivaled value for a great price, BONUS it with a grill, a plate, a griddle and oven gloves, and 4 cooking modes to meet your requirement on burning, BBQ, roasting, and broil.
So, gather small twigs, branch leaves, pinecones, and fire woods, charcoal or solid alcohol for fuel and have fun, start your cooking, and enjoy your delicious cooking adventure.
7. Housweety Lightweight Large Burner Backpacking Camping Stove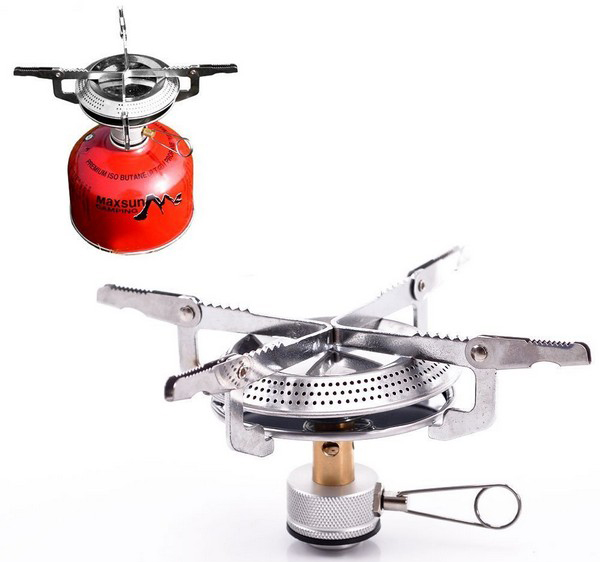 The Housweety is compact and lightweight with large burner backpacking and camping stove. This ultralight canister stove is durable and weighs 3.9 oz. only. These stoves are built for Butane and Propane Canisters and work well with any screw top isobutane/propane canisters, which are available just about anywhere such as camping gas, MSR, Coleman, and much more. It has a fully adjustable flame and simmers functionality making it an impressive little stove. Tanks excluded.
8. SOTO Outdoors – Windmaster Stoves Ultralight Backpacking Stove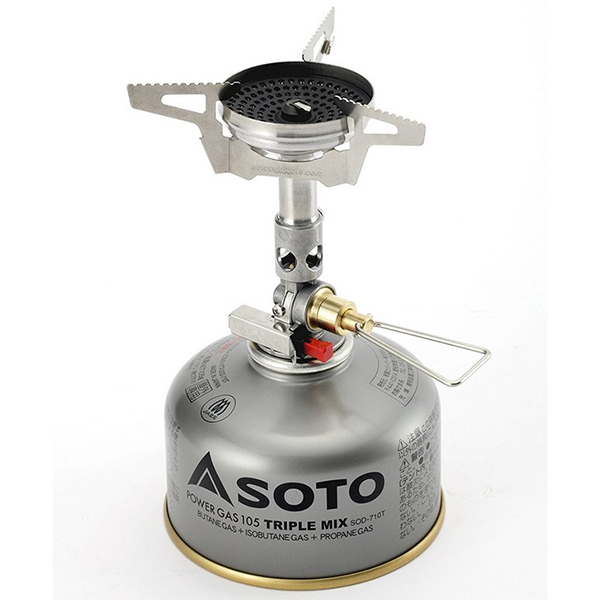 The Soto OD-1RX Windmaster is meticulously engineered and crafted as an ultralight backpacking stove built on the same award-winning design as the OD-1R stove, including the 4-prong pot support. The OD-1RX camping stove has a few upgrades over its predecessor such as positioning the pot closer to the flame, minimizing the penetration of the wind to the flame thereby increases its efficiency.
The burner head has also been redesigned into a concave form making the burner head sides act as a mini windscreen. This stove also features the Micro Regulator offering consistent output regardless of temperature or fuel level. The stove's pot support is also removable and swappable and regardless of the pot size, you can readily find the right size pot support for every need. Gas canister not included.
9. CANWAY Wood Burning Stove Stainless Steel Camping Stove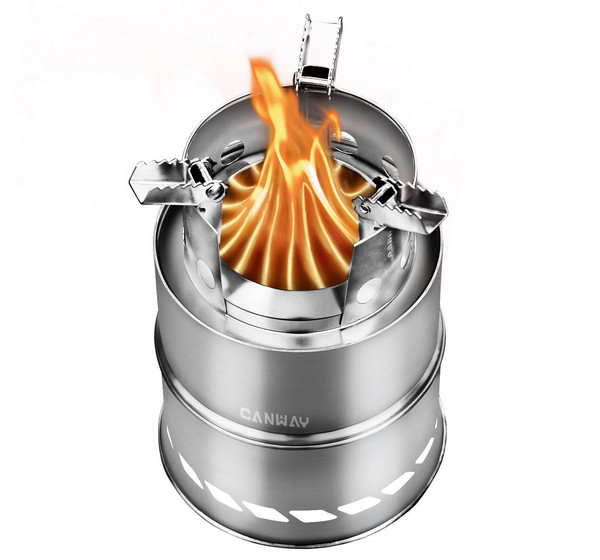 The environmental design Canway Wood Burning Stove uses twigs, leaves and other wood fuels as well as solidified alcohol. This wood burning camping stove has High Thermal Efficiency where burning continues for 20 minutes with dry firewood and wood chips. This Wood Burning Stove has good ventilation, easy to fire, and distributes heat evenly.
It is made of high-quality stainless steel material with 3 arms pot support providing a safe and stable cooking platform. Additionally, the minimum size of this portable stove is just 5.2 inches x 5.2 inches x 3 inches, compact enough to be easily packed in a small storage bag leaving more room in your backpack.
10. Jetboil Minimo Personal Cooking System with Push-Button Igniter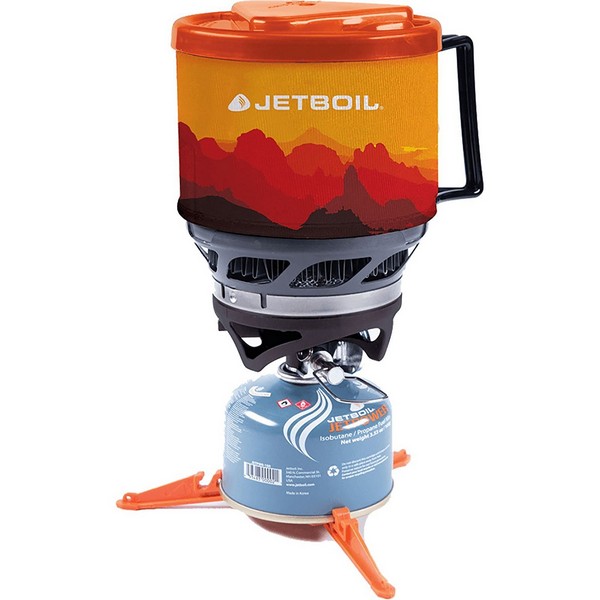 The Jetboil MiniMo is a complete cooking system loaded with features including a push-button igniter, robust metal handles, unrivaled simmer control, and a lower spoon angle for easier eating right from the cup. Though the MiniMo is a little heavier and more expensive than some ultralight stove/pot combo, its convenience, speed, and stability make it exceptional for a lightweight backpacking. The Jetboil Minimo Cooking System includes a canister stabilizer and compatible accessories including a Hanging Kit, a NEW MiniMo-sized Coffee Press, and Pot Support.
11. Progre®Outdoor Portable Camping Stove Butane Propane Burner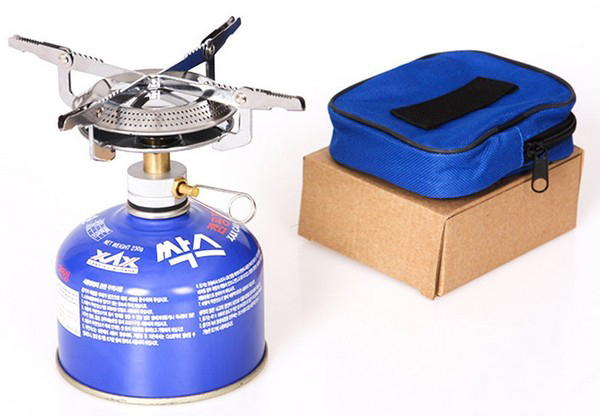 The Progre®Outdoor is a lightweight and sturdy camping stove made of stainless steel with a large burner suitable for frying pans. It features an adjustable cradle that fits in a small storage box. This stove comes with a carrying bag and uses a combination of iso-butane or a propane canister as fuel. The stove can consume 50g/hr of gas and with an adjustable flame control, there's no need to go through the hassle of starting a fire for camping or hiking.
Picking the Best Backpacking and Camping Stoves
Camping Stove Types –Picking the right backpacking stoves is not an easy task because of so many different types flooding the market that often leads to confusion. There are alcohol stoves, liquid fuel stoves, canister stoves, solid fuel stoves, and wood stoves and these are just a few of the most familiar types. With these categories, we've given you a small window of options taking away much of the confusion. In the list below, we explain the best for every choice.
Price – As camping and backpacking stoves come so many types, the prices also go with it, naturally. Some are cheap and others may cost more than a hundred. Usually, as the prices go north, they also correspondingly provides much greater convenience and durability. And if you love the wilds a lot, it makes sense to spend a little more of your hard-earned money for a stove you plan to be your sidekick for many years.
Weight – The weight of a camping stove also plays a role especially when you're hiking long distances for it varies a lot among different stove types. Big burners consume a lot of fuel, therefore, you have to carry it for the duration of your trek, although compact big burners for melting snow can weigh close to a pound, otherwise, go for ultralight stoves weighing just around an ounce. We also recommend a wood-burning stove because as usual, you will just carry the stove.
Stability – Stability is also an important factor in buying a backpacking stove. Surely you would not want to see your fully cooked food tumbling down the ground. Cooking large meals for the group requires using big pots, so get a stove with a wide, sturdy base that would rest securely on the ground. Smaller pots cooked just fine with upright canister stoves, but you must at all times cook with care.
Wind – The Wind is always a nuisance when cooking outdoors, and camping and backpacking stoves do not like wind. Winds will always whip away heat before it ever reaches your pot, making your stove less efficient, although some stove performs better in windy surroundings such as an integrated canister stove, while others perform very poorly such as alcohol-fueled stoves, wood-burning stoves, and solid fuel stoves. A windscreen is highly recommended for most stoves, but if you are using a canister stove in exposed conditions, seek out some wind shelter to boost stove efficiency.
Our thoughts on these Camping Stoves
With a wide assortment of camping stove in the market today, making the final decision on what to buy is no easy feat. The decision will largely depend on you and our reviews here, and your other camping accessories you're bringing along in your backpack or trailer, like camping tables or a sleeping bag.
Hopefully, our thorough understanding and experiences about backpacking and camping stoves will help you sort out the best options and find the stove that is best for you, for your backpacking buddies, and for your specific needs.
Welcome to the Active Thrills community! We, Nash and I, are the owners and authors of this special platform. We are so thrilled to say that this is definitely running actively to continue sharing all information and knowledge that we have about skateboarding, extreme sports, and gadgets in order to reach more and more people all over the world.