Air compressor comes in so many designs, types, capacities, functionalities, and applications. With its many applications and uses, it is always hard and confusing in choosing the best one for the specific job in mind.
Either way, our air compressor is our holy active thrills grail. We used it for literally everything, wether that is for our kite, cleaning our surf gear, removing unwanted sand, inflate our tubs, clean our snows-boards, we always have one close. Now, which air compressor is good for you? Don't worry, we got your covered with our in-depth guide and air compressor review comparisons.
Air Compressor Buying Guide
For small application purposes such as operating a nail gun, you may only need a small capacity, portable air compressor to do the job. There are also the industrial-type gas engine or electric motor air compressors big enough for large projects, or the single-stage, piston-type ones, battery operated for home use, but on this review article, we will only concentrate on the best portable air compressor we consider as portable enough to be categorized as a handy tool for everyday uses.
These types of portable air compressors can operate a nail gun, can be used for spray painting, or pumping up your car tires, and most of all, it can be carried anywhere. So, when purchasing an air compressor, it is very important to know first what you are going to use it for.
Always look for the best air compressor that is versatile enough to perform in a range of applications for any planned tasks. In that way, you will not have to purchase an air compressor for operating a nail gun and another for spray painting your car.
10 Best Air Compressor Reviews
Below you can find an overview of the 10 best air compressors in the market. Hopefully, these revieww will guide you in the right direction in picking the right air compressor that is a good fit for the task you're planning to do.
1. Makita MAC700 Big Bore 2.0 HP 2.6 Hot Dog Air Compressor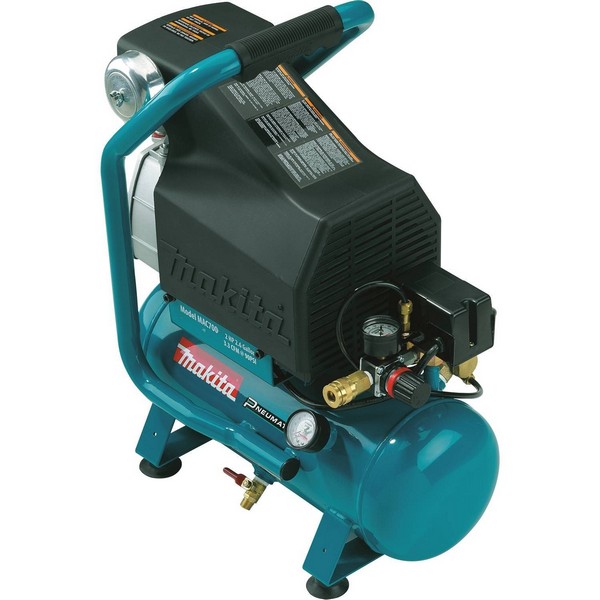 Powered by a 2.0 HP motor, the Makita MAC700 is a cast iron pump hot dog air compressor outfitted with Makita's famous Big Bore technology engineered cast iron cylinder pump and piston for increased compression, less noise, higher output, and improved project site performance.
The cast iron construction of Makita MAC700 is engineered to provide the industrial power resulting in much-improved sturdiness over time under harsh job conditions. It has an oil-lubricated pump equipped with a large automotive style filter for increased air intake and greater efficiency. Furthermore, the electric-powered Makita MAC700 runs cooler at half of the RPM of most competitive units, resulting in better motor and pump life.
The 2.6-gallon tank can sustain an operating pressure of up to 130 PSI delivering a 40PSI (3.8 CFM) and 90 PSI (3.3 CFM). It draws low AMP reducing instances of tripped off breakers and voltage drop that can be the source of premature motor failure. For more product details and specification, please click here.
2. PowRyte Elite 4 Gallon Oil-Free Vertical Pancake Air Compressor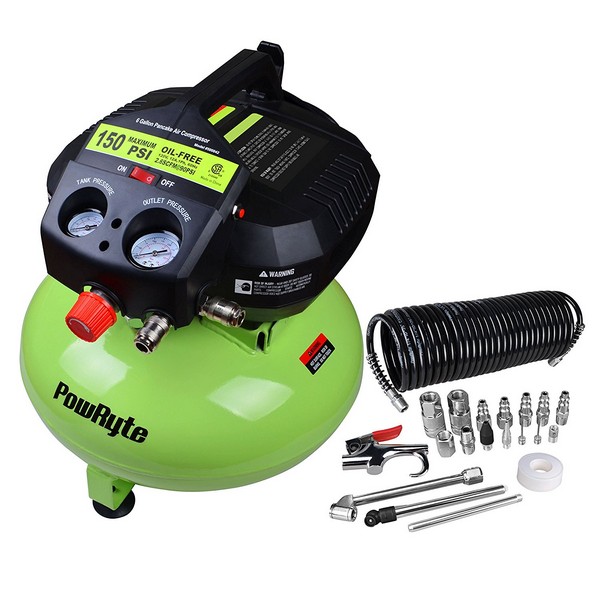 The PowRyte Elite air compressor with all of its 20-piece air accessories is ideal for a number of trim finishing nail guns, small framing, and roofing jobs, and all general inflation, blowing and smaller SCFM pneumatic tools. It is an oil-free and maintenance-free pump air compressor featuring a 150 PSI max allowing users to drive more nails and a 2.6 SCFM 90 psi for a quick recovery.
With its vertical 6-gallon pancake tank for added stability and improved center of gravity, it also features an innovative fully packed shroud with integrated carry handle allowing for better protection and easy portability. This small 31 pounds electric compressor has a low-amp, 120-volt motor to easily fire up in cold weather or with an extension cord. For more details of the product and specifications, please click here.
3. Eagle EA-4000 125 psi MAX Silent Series 4000 Air Compressor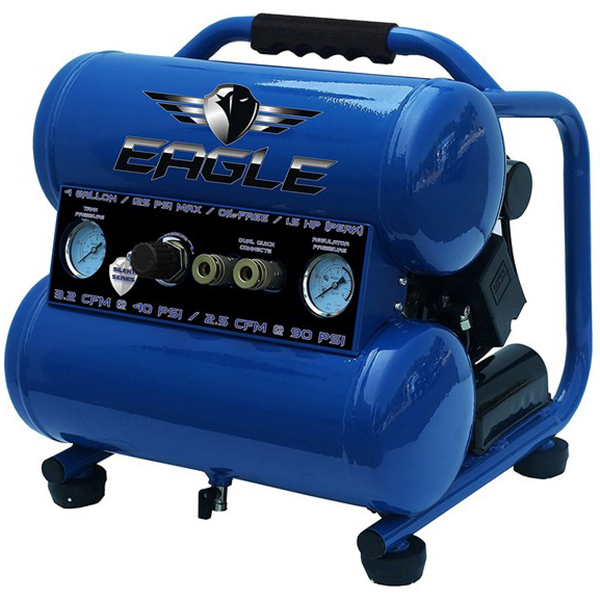 The Eagle EA-4000 Silent Series air compressor is the quietest of the professional-grade air compressor in its class, so quiet that you may not hear it running.
With its high output and quiet operations at only 47 decibels at 25′, the EA-4000 is perfect for indoor and outdoor operation, hence, you can work on your projects in total comfort without sacrificing performance. Individual projects are also getting better as its noiseless operation adds more comfort to the user and anyone close by. No need to yell instructions.
Furthermore, the 1.5 HP Peak, 4-gallon capacity Eagle EA-4000 that draws only 6.5 amps, has a slow RPM (Revolution per Minute) motor that reduces heat, noise, and friction, while the twin air intake lets in two times the air. These results in a smaller amount of wear and effect an extended life, coupled with a maintenance and oil-free compressor head, lever-type drain valve, and a braided stainless steel discharge tubing. For more product specifications, please click here.
4. Campbell Hausfeld Quiet 6 Gallon Pancake Air Compressor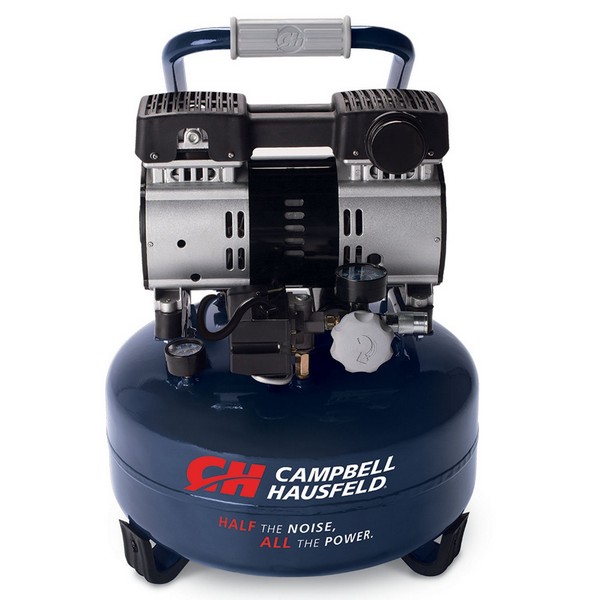 Producing just 68 dBA, this Campbell Hausfeld air compressor is 50% quieter than most comparable air compressors. It has all the power at half the noise which is ideal for any users working where noise is a major issue.
This air compressor offers a quiet working environment making it easier for the user to finish a project like a pro. This 1.0 HP Campbell Hausfeld air compressor with key components lasting up to four times longer, is an oil-free and maintenance-free pump for convenient on-going use.
It features a dual-piston pump system engineered for high performance and durability producing 25% more air compared to other 1.0 HP air compressors. For more technical details of the product, please click here.
5. Craftsman 3 Gallon Oil-Lube 135psi Portable Air Compressor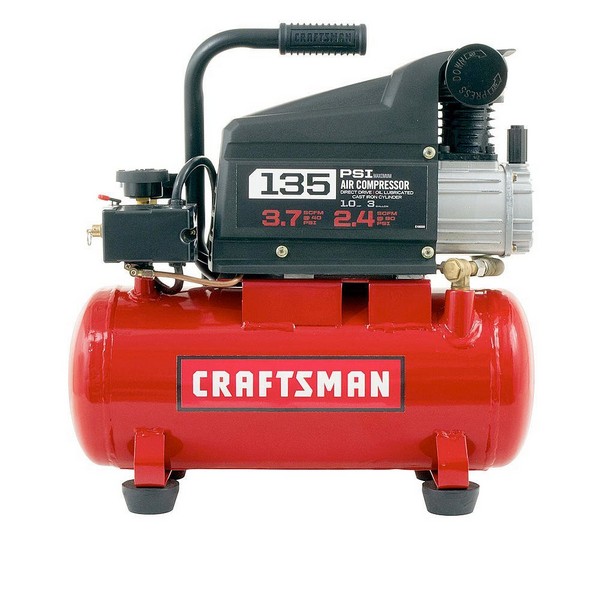 This industry-leading 3 gallon Craftsman 1.0 HP, 135 psi portable air compressor is all that is needed to get your projects done faster and easier. This oil lube air compressor with the accompanying 3 pcs. accessory kit makes short work of filling bike tires, car tires, air mattresses, and much more and if you are a DIY household repair virtuoso, this Craftsman portable air compressor can operate various pneumatic tools such as air ratchets, nail guns, and paint sprayers with ease.
This piston style pump compressor is small but tough made of steel for long life, powered by a 1.0 HP direct drive motor with an operating pressure of 135 psi maximum, and is very convenient for works needing compressed air, at home or at work. For more information on this product, please click here.
6. DEWALT DWFP55126 165 PSI 6-Gallon Pancake Air Compressor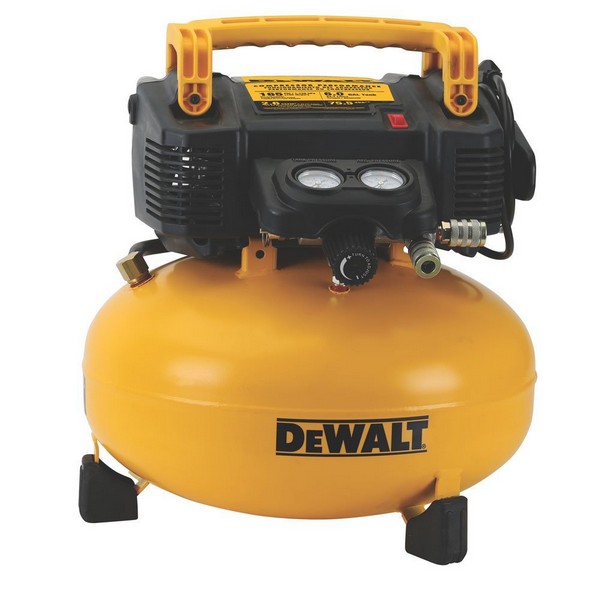 The 6-gallon DEWALT DWFP55126 pancake style tank air compressor operates at 165 PSI maximum and delivers a 2.6 SCFM at 90 PSI pump, enabling long tool run time and quick recovery.
It features high-efficiency motor to easily fire up in cold weather or with an extension cord application, a 75.5 dBA noise level for a quiet work environment, and a high flow regulator and couplers to maximize pneumatic tool performance. The high flow regulator and couplers maximize pneumatic tool performance and an oil-free, maintenance-free operation.
Additionally, this compressor also features two universally-used couplers to easily link two users, a quick draining ball valve for thorough tank draining. It has a removable protective control cover for easy repair and rubber leg covers to prevent marring. For more technical details and specifications, please click here.
7. Ingersoll Rand P1IU-A9 Hand Carry Twinstack 2-HP Air Compressor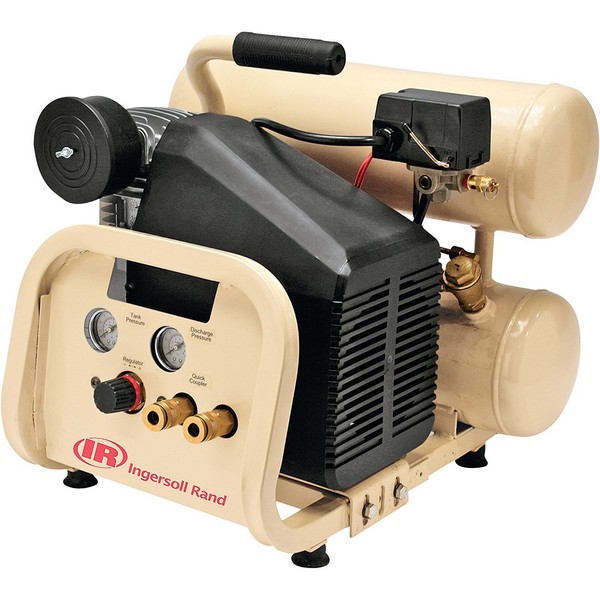 This single-stage, 4-gallon Ingersoll Rand hand-carry air compressor is electrically powered by a single-phase 2 HP motor, 120 volts and 15 amps, operating at 135 psi 3.2 CFM maximum and 90 PSI 4.3 CFM. This compressor features a twin stack type tank with a cast iron, oil-lubricated pump for a longer lifespan, a completely balanced crankshaft that significantly reduces vibration in addition to a protective back covering, and a sealed-off frame for any rugged applications.
The Ingersoll Rand's P1IU-A air compressor which is built and designed for the toughest continuous-duty applications provides all the ultimate power, portability, and durability in any job sites. Additionally, it also provides two quick-connect couplers to run two pneumatic tools at the same time which of course a favorite for DIY homeowners. For more product details and information, please click here.
8. Bostitch BTFP02012 6 Gallon 150 PSI Oil-Free Air Compressor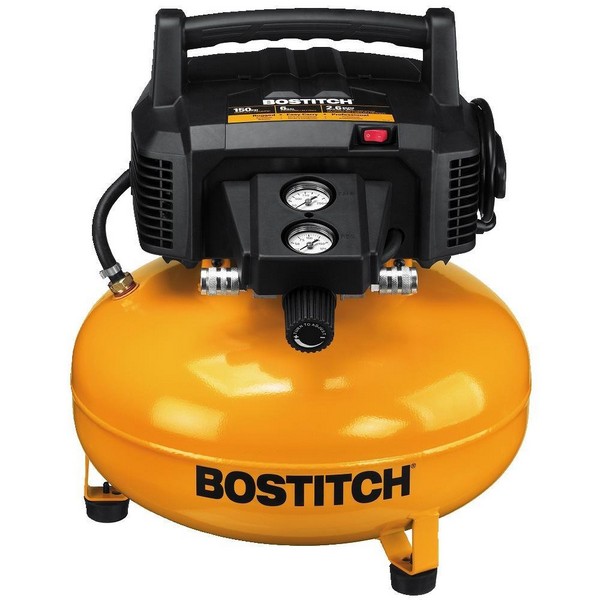 The 6-gallon Bostitch BTFP02012 is a portable and a lightweight, oil-less air compressor with a 78.5 dBA operational noise level for a quiet work environment. It features a maintenance-free, oil-free pump delivering a 2.6 SCFM @ 90 PSI and a maximum of 150 PSI tank storage for long tool run time with quick recovery. This electric power supply air compressor has a BOSTITCH high-level efficiency motor to easily fire up in cold weather or with an extension cord application [14 ga or larger, 50 ft. (15.2 m) or less] at only 20 lbs. in weight, it is easy to carry and store. It has also a high flow regulator and couplers to maximize pneumatic tool performance coupled with two universal couplers to easily support two users. For more product information, please click here.
9. PORTER-CABLE PCFP02003 135 PSI Pancake Air Compressor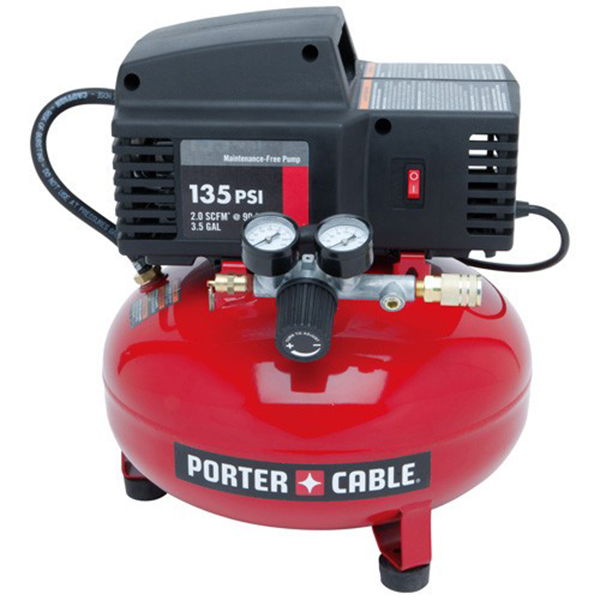 The 135 PSI Porter Cable PCFP02003 Air compressor features a durable oil-free pump for long life and no maintenance and with low amperage, 120V motor to easily fire up in cold weather or with an extension cord, it is well-suited for finishing nail guns, small framing or roofing projects and all wide-ranging inflation applications, blowing and smaller SCFM pneumatic tools. This PCFP02003 3.5-gallon tank 135 PSI Pancake Compressor, delivers a 2.0 SCFM at 90 PSI pump and 135 max PSI for longer run time and quicker recovery.
This air compressor has a factory installed quick coupler for quick access to regulated air and weighing at only 26 lbs. for easy portability and an 82dBA decibel operational noise level, it is quite perfect for a quiet working surrounding. For more information on its technical details, please click here.
10. California Air Tools 10020C Ultra Quiet Oil-Free Air Compressor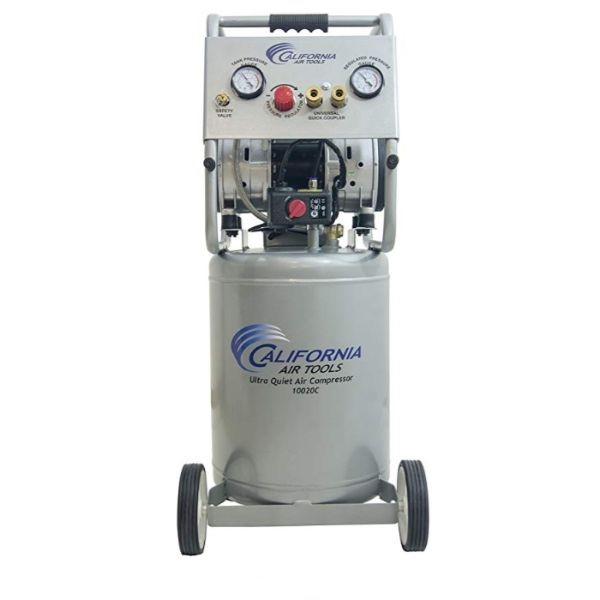 The portable Quincy 2-HP, 26-gallon vertical tank type, the single-stage compressor has a small footprint compared to the other air compressors in its class. This air compressor produces significant higher CFM per horsepower delivering more compressed air to get jobs done easier and faster.
This air compressor features a low RPM, a noiseless pump with cast iron cylinder, crankshaft and valve plate, and an aluminum head for the best heat dissipation and long life. It is powered by a 115 volts, single-phase motor and produces 7.4 CFM @ 90 PSI and 8.3 CFM @ 40 PSI with a working pressure of 110 – 135 PSI. For more product information, please click here.
Buying your Air Compressor
As usual, in purchasing an air compressor, there is no wrong choice here, but be sure to purchase one based not only on price range but also features.
When looking for the best air compressor, you must take into account the environment or job sites for which the compressor is needed. A loud one won't fare well in a home environment compared with the ultra-quiet ones available in the market today and a smaller air compressor won't be suited for the large project.
The advantages and disadvantages are so many on the list, but there are so many air compressors on the market today that it becomes much harder to choose a bad one. Just take your time with the list, and disappointment will be eons of ever happening!
Welcome to the Active Thrills community! We, Nash and I, are the owners and authors of this special platform. We are so thrilled to say that this is definitely running actively to continue sharing all information and knowledge that we have about skateboarding, extreme sports, and gadgets in order to reach more and more people all over the world.